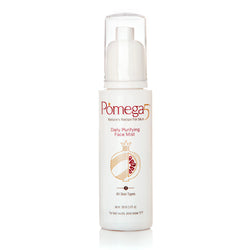 Daily Purifying Face Mist
100 ml / 3.4 fl. oz
A refreshing floral water toner infused with citrus essential oils and colloidal minerals to provide lightweight moisture, purify and balance pH.
Daily Purifying Face Mist is the multitasker Tzeira always craved for her active lifestyle: hydrating, balancing and calming, this gentle facial tonic is a revival for both skin and soul. Reminiscent of a colorful spring breeze, Daily Purifying Face Mist is made with a pomegranate, blue cornflower-rose infusion and citrus essential oils for a delicate, uplifting scent you will fall in love with over and over again.
skin type: all skin types
Rose Water

Distilled from fresh rose petals. Anti-inflammatory, mild astringent, soothes, balances pH, tones, hydrates, stimulates regeneration, improves mental focus.

Blue Cornflower Water

Distilled from cornflower petals. Anti-inflammatory, antiseptic, soothes irritation, firms, tones, refreshes skin, reduces puffiness around the eyes.

Witch Hazel Water

Distilled or tinctured from witch hazel flowers and leaves. Rich in astringent tannins, antioxidant, anti-inflammatory, reduces irration, tightens the pores, balances, tones, historically known to treat psoriasis, eczema, cracked and blistered skin.

Pellitory-of-the-Wall Extract

Named for its tendency to grow on walls. Emollient, promotes circulation and metabolism, reduces inflammation, treats wounds, prevents infections, improves scars and acne.

Petitgrain Oil

Blend of essential oils distilled from the leaves and twigs of the bitter orange plant. Revives dull skin, tones, clears acne, balances perspiration, relieves stress and nervous exhaustion, uplifts.
1. Shake before use. Day and night after cleansing, spritz clean face or cotton ball with 3-4 sprays of Daily Purifying Face Mist. Dab and allow a minute for absorption.
2. Follow with Daily Revitalizing Concentrate and your favorite Pomega5 moisturizer.
3. Reapply Mist as needed throughout the day to restore and refresh dehydrated skin.
Store below 75°F to preserve efficacy of the ingredients and maximize freshness.
Pomega5 products are made with only the purest bioactive organic ingredients, selected for their compatibility with skin and with each other. For superior results, we recommend refraining from the use of other facial preparations, treatments and creams, and maintaining a regular AM/PM Pomega5 regimen tailored to your skin needs.