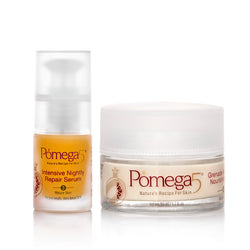 Intensive Nightly Repair Duo
Skin regenerative duo formulated with precious seed oils and natural fruit acid to exfoliate, deeply nourish and minimize visible signs of aging. Duo includes:
Intensive Nightly Repair Serum (15 ml)
Grenade Anti Rides Nourishing Cream (50 ml)
This exquisite anti-aging duo features two complimentary products specially formulated to work together to boost collagen production, strengthen skin and stimulate cellular regeneration. Intensive Nightly Repair Serum, containing glycolic acid and arnica, exfoliates away old skin cells, lifts and refines, while Grenade Anti Rides, a rich and elegant moisturizer, nourishes and rejuvenates with seed oils of pomegranate, carrot, cranberry, and red raspberry. 
skin type: mature
Pomegranate Seed Oil

Cold-pressed from the seeds within the juice-filled arils. Rich in rare Omega 5 essential fatty acid. Potent antioxidant and anti-inflammatory, promotes cell renewal, stimulates collagen production, protects against sun damage, reduces redness, heals irritations.

Glycolic Acid

Alpha hydroxy acid derived from sugar cane and certain fruits. Exfoliates, treats fine lines, pigmentation, and scars, boosts moisture content, increases collagen and elastin synthesis.

Raspberry Seed Oil

Rich in Omegas oils and vitamin A. Antioxidant, anti-inflammatory and anti-carcinogenic. Provides UV protection, nourishes, prevents lesions, treats skin conditions.

Cranberry Seed Oil

Unique balance of Omegas 3, 6 and 9. Emollient, antioxidant, anti-inflammatory, provides UV protection, locks in moisture, relieves skin conditions, promotes cell regeneration.

Arnica Extract

Anti-bacterial, calms inflammation, reduces pain and swelling, stimulates circulation, regenerates skin tissue, commonly used to treat wounds, acne and skin disorders.
1. Shake bottle of Intensive Nightly Repair Serum. Every night after cleansing and toning, apply a few pumps to your fingertips. Tap lightly on to face and neck, smoothing gently over skin to aid absorption.
2. Follow with Grenade Anti Rides Nourishing Cream. Apply to fingertips and gently smooth over the face and neck.
Store below 75°F to preserve efficacy of the ingredients and maximize freshness.
Pomega5 products are made with only the purest bioactive organic ingredients, selected for their compatibility with skin and with each other. For superior results, we recommend refraining from the use of other facial preparations, treatments and creams, and maintaining a regular AM/PM Pomega5 regimen tailored to your skin needs.