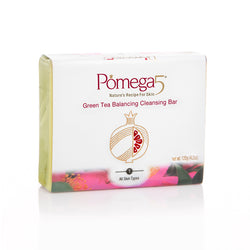 Green Tea Balancing Cleansing Bar
NOTICE: LIMIT 2 PER CUSTOMER
120 g / 4.2 oz
A universal facial cleanser formulated with antioxidant pomegranate seed oil, green tea and verbena to fight free radicals and restore balance.
Green Tea Balancing Cleansing Bar draws upon the protective, anti-inflammatory properties of green tea and purifying botanicals like lemongrass, verbena and medicinal sage to restore skin's equilibrium. Formulated with extra virgin olive oil, this facial bar cleanses deeply to minimize pore size and provide hydration, leaving skin with an even tone, softness and natural luster you can see.
skin type: all skin types
Extra Virgin Olive Oil

Cold-pressed from the olive fruit. Rich in Omega 9 essential fatty acids and vitamin E. Super antioxidant, restores moisture and nourishment, lubricates, softens skin, heals wounds.

Pomegranate Seed Oil

Cold-pressed from the seeds within the juice-filled arils. Rich in rare Omega 5 essential fatty acid. Potent antioxidant and anti-inflammatory, promotes cell renewal, stimulates collagen production, protects against sun damage, reduces redness, heals irritations.

Green Tea Leaf Extract

Potent antioxidant, anti-inflammatory, reduces sun damage and risk of irritation, prevents collagen breakdown, rejuvenates skin cells, lightens.

Verbena Oil

Essential oil distilled from the verbena leaf. Antioxidant, anti-bacterial, antiseptic, reduces inflammation, softens, relieves anxiety, boosts concentration, uplifts mood.

Sage Oil

Essential oil distilled from the leaves of the sage plant. Anti-fungal, anti-bacterial, antioxidant, reduces inflammation, disinfects, cleanses, conditions, and softens.
1. Day and night, dampen skin and work Cleansing Bar in a circular motion over the face to cleanse. Exfoliate with edges of bar as desired.
2. Rinse thoroughly with lukewarm water and gently towel dry.
3. Follow with Daily Purifying Face Mist, Daily Revitalizing Concentrate, and Green Tea Mattifying Moisturizer.
Store below 75°F to preserve efficacy of the ingredients and maximize freshness.
Pomega5 products are made with only the purest bioactive organic ingredients, selected for their compatibility with skin and with each other. For superior results, we recommend refraining from the use of other facial preparations, treatments and creams, and maintaining a regular AM/PM Pomega5 regimen tailored to your skin needs.