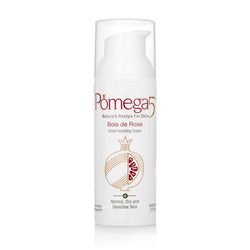 Bois de Rose Velvet Hydrating Cream
 50 ml / 1.7 fl. oz
Sweet almond oil, Panama Bark and bilberry come together in this soothing moisturizer to gently hydrate and even skin tone for a bright, youthful complexion.
A gift for her daughter who was always difficult to please, Bois de Rose is Tzeira's classic must-have for every young woman. Bulgarian Damask rose transports you to the garden at first application, combining with Omega 5, bilberry and purifying Panama bark to restore balance, diminish the appearance of fine lines, and leave skin feeling hydrated and velvety soft. Sensuous, sweet, and incredibly fresh, Bois de Rose is like that little black dress you just can't do without.
skin type: normal, dry, sensitive
Sweet Almond Oil

Pressed from the kernel of the sweet almond tree. Rich source of Omega 9. Replenishes natural oils, smoothes, softens, protects, reduces irritation and inflammation.

Pomegranate Seed Oil

Cold-pressed from the seeds within the juice-filled arils. Rich in rare Omega 5 essential fatty acid. Potent antioxidant and anti-inflammatory, promotes cell renewal, stimulates collagen production, protects against sun damage, reduces redness, heals irritations.

Panama Bark Extract

Rich botanical source of saponins (natural cleansers) and polyphenols. Purifies, smoothes and softens, evens skin tone, balances pH, calms, relieves redness and irriation.

Bilberry Extract

Astringent, antioxidant, anti-inflammatory, soothes, tones, replenishes, lightens. Contains alpha hydroxy acids to promote exfoliation and cell renewal.

Rosewood Oil

Essential oil extracted from the Brazilian rosewood tree. Antiseptic, antidepressant, stimulates cell and tissue regeneration, relieves pain, harmonizes.
1. Day and night after cleansing and toning, apply a few pumps of Bois de Rose to fingertips and gently smooth over the face and neck.
2. Once or twice daily (depending on skin type and environmental conditions), precede application with Daily Revitalizing Concentrate.
3. Reapply Bois de Rose as needed throughout the day.
Store below 75°F to preserve efficacy of the ingredients and maximize freshness.
Pomega5 products are made with only the purest bioactive organic ingredients, selected for their compatibility with skin and with each other. For superior results, we recommend refraining from the use of other facial preparations, treatments and creams, and maintaining a regular AM/PM Pomega5 regimen tailored to your skin needs.