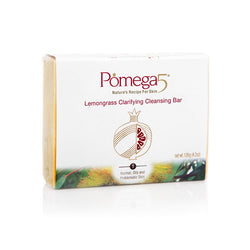 Lemongrass Clarifying Cleansing Bar
120 g / 4.2 oz
A deeply cleansing and invigorating olive oil facial cleanser, formulated with purifying lemongrass and eucalyptus essential oils.
Drawing on centuries of traditional soap-making practices, Tzeira developed this cleansing bar using the most premium ingredients sourced from the Mediterranean. Extra virgin olive oil, precious pomegranate seed oil, herbs, and essential oils of lemongrass and eucalyptus deeply cleanse and purify skin to keep it clear, soft and thoroughly nourished. Irresistibly fresh, this classic favorite is not just a facial cleanser: it's an experience.
skin type: normal, oily, problematic, acne-prone
Extra Virgin Olive Oil

Cold-pressed from the olive fruit. Rich in Omega 9 essential fatty acids and vitamin E. Super antioxidant, restores moisture and nourishment, lubricates, softens skin, heals wounds.

Pomegranate Seed Oil

Cold-pressed from the seeds within the juice-filled arils. Rich in rare Omega 5 essential fatty acid. Potent antioxidant and anti-inflammatory, promotes cell renewal, stimulates collagen production, protects against sun damage, reduces redness, heals irritations.

Lemongrass Oil

Essential oil distilled from the leaves of lemongrasses. Antiseptic, anti-cellulite, treats infections, balances skin, relieves pain, corrects circulation, boosts the nervous system.

Eucalyptus Oil

Essential oil derived from the leaves of the eucalyptus tree. Anti-inflammatory, antiseptic, anti-bacterial, relieves muscle and joint pain, treats infections, improves circulation.

Myrtle Oil

Essential oil obtained from the common myrtle flowering plant. Antiseptic and astringent, disinfects, decongests, relaxes, reduces anxiety.
1. Day and night, dampen skin and work Cleansing Bar in a circular motion over the face to cleanse. Exfoliate with edges of bar as desired.
2. Rinse thoroughly with lukewarm water and gently towel dry.
3. Follow with Daily Purifying Face Mist, Daily Revitalizing Concentrate, and Green Tea Mattifying Moisturizer or Healing Cream.
Store below 75°F to preserve efficacy of the ingredients and maximize freshness.
Pomega5 products are made with only the purest bioactive organic ingredients, selected for their compatibility with skin and with each other. For superior results, we recommend refraining from the use of other facial preparations, treatments and creams, and maintaining a regular AM/PM Pomega5 regimen tailored to your skin needs.