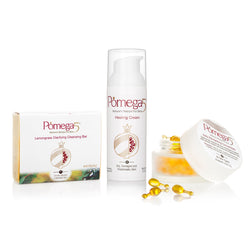 Healing System
 Pomega5's most therapeutic products, concentrated with healing Omega fatty acids and signature citrus essential oil blend. System includes:
Lemongrass Clarifying Cleansing Bar (120 g)
Daily Revitalizing Concentrate (30 ampoules)
Healing Cream (50 ml)
Formulated with the absolute highest concentration of pomegranate seed oil, the Healing System, which includes Tzeira's earliest creations, represents the fundamental core of the Pomega5 line. Incredibly rich, yet light and comforting to the touch, this set contains every vital essential fatty acid, a unique antioxidant blend that works to reduce the appearance of redness and skin inflammation, while stimulating the creation of new, healthy cells.
skin type: dry, damaged, problematic
Pomegranate Seed Oil

Cold-pressed from the seeds within the juice-filled arils. Rich in rare Omega 5 essential fatty acid. Potent antioxidant and anti-inflammatory, promotes cell renewal, stimulates collagen production, protects against sun damage, reduces redness, heals irritations.

Calendula Oil

Rich in Omegas 3 and 6. Anti-inflammatory, anti-fungal, heals wounds and burns, soothes pain, promotes cellular regeneration, treats acne and irritated skin.

Carrot Seed Oil

Rich in Omega 9 and vitamin A. Antioxidant, antiseptic, nourishes, maintains skin elasticity, protects, soothes, heals, stimulates and rejuvenates, reduces wrinkles, firms.

Grape Seed Oil

Antioxidant, anti-inflammatory, anti-aging, and hypo-allergenic. Promotes regeneration of skin cells, boosts collagen, fights acne, protects against sun damage, adds shine.

Lemongrass Oil

Essential oil distilled from the leaves of lemongrasses. Antiseptic, anti-cellulite, treats infections, balances skin, relieves pain, corrects circulation, boosts the nervous system.
1. Day and night, dampen skin and work Cleansing Bar in a circular motion over the face to cleanse. Exfoliate with edges of bar as desired.
2. Rinse thoroughly with lukewarm water and gently towel dry.
3. Twice daily use Daily Revitalizing Concentrate Ampoules: twist to open, gently squeeze contents onto fingertips, and apply to face and neck using light tapping motions. Allow skin to gradually absorb the Revitalizing formula.
4. Apply a few pumps of Healing Cream to fingertips and gently smooth over the face and neck.
Store below 75°F to preserve efficacy of the ingredients and maximize freshness.
Pomega5 products are made with only the purest bioactive organic ingredients, selected for their compatibility with skin and with each other. For superior results, we recommend refraining from the use of other facial preparations, treatments and creams, and maintaining a regular AM/PM Pomega5 regimen tailored to your skin needs.