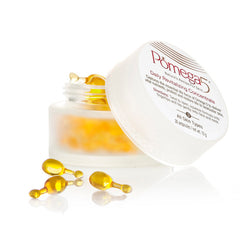 Daily Revitalizing Concentrate
30 ampoules / 10 g
A daily repair treatment based on pure Omega oils and fruit essences known for their rejuvenating, nourishing and skin brightening properties.
A transformational experience for the skin and senses, Daily Revitalizing Concentrate captures the essential life force of Omega 5 in its purest and most concentrated form. Each pearl-like ampoule contains over 60% of this antioxidant-laden ingredient, along with calendula, rosehip, and jojoba oils to deliver vital nutrients, protect and restore life to lackluster skin. If you ever doubted the existence of miracles, this rejuvenating Omega blend will turn you into a believer
skin type: all skin types
Pomegranate Seed Oil

Cold-pressed from the seeds within the juice-filled arils. Rich in rare Omega 5 essential fatty acid. Potent antioxidant and anti-inflammatory, promotes cell renewal, stimulates collagen production, protects against sun damage, reduces redness, heals irritations.

Jojoba Oil

Obtained from the crushed bean of the jojoba shrub. Rich in Omega 9. Antioxidant, unclogs pores, conditions, moisturizes, softens, reduces wrinkles and stretch marks, lightens.

Calendula Oil

Rich in Omegas 3 and 6. Anti-inflammatory, anti-fungal, heals wounds and burns, soothes pain, promotes cellular regeneration, treats acne and irritated skin.

Rosehip Oil

Extracted from the seeds of the rose plant. Rich in Omegas 3, 6 and 9 and vitamin A. Antioxidant, improves skin elasticity, rejuvenates, moisturizes, reduces scars, wrinkles and age spots, soothes and softens.

Grapefruit Oil

Essential oil distilled from the grapefruit peel. Anti-bacterial, treats oily skin and acne, detoxifies, tones, combats depression, headaches and stress, energizes.
1. Use twice daily after cleansing and toning. Twist to open, gently squeeze contents onto fingertips, and apply to face and neck using light tapping motions.
2. Allow skin to gradually absorb the Revitalizing formula.
3. Follow with your favorite Pomega5 moisturizer.
Store below 75°F to preserve efficacy of the ingredients and maximize freshness.
Pomega5 products are made with only the purest bioactive organic ingredients, selected for their compatibility with skin and with each other. For superior results, we recommend refraining from the use of other facial preparations, treatments and creams, and maintaining a regular AM/PM Pomega5 regimen tailored to your skin needs.