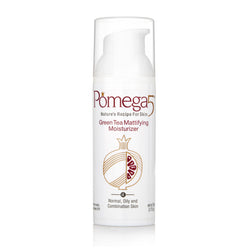 Green Tea Mattifying Moisturizer
 50 ml / 1.7 fl. oz
A lightweight, antioxidant moisturizer formulated to clarify, protect and provide day-long hydration that leaves skin with a flawless, matte-like finish.
Green Tea Mattifying Moisturizer was inspired by Tzeira's love for Japanese green tea, which she routinely blends with organic herbs and flowers from her own garden. Formulated with three ultra-potent antioxidants - Omega 5, green tea and verbena - this uniquely hydrating moisturizer provides defense against future damage and a boost of energy that will leave you revitalized and ready to seize the day, sans the coffee.
skin type: normal, oily, combination
Jojoba Oil

Obtained from the crushed bean of the jojoba shrub. Rich in Omega 9. Antioxidant, unclogs pores, conditions, moisturizes, softens, reduces wrinkles and stretch marks, lightens.

Green Tea Extract

Potent antioxidant, anti-inflammatory, reduces sun damage and risk of irritation, prevents collagen breakdown, rejuvenates skin cells, lightens.

Pomegranate Seed Oil

Cold-pressed from the seeds within the juice-filled arils. Rich in rare Omega 5 essential fatty acid. Potent antioxidant and anti-inflammatory, promotes cell renewal, stimulates collagen production, protects against sun damage, reduces redness, heals irritations.

Verbena Oil

Essential oil distilled from the verbena leaf. Antioxidant, anti-bacterial, antiseptic, reduces inflammation, softens, relieves anxiety, boosts concentration, uplifts mood.

Vanilla Extract

Rich source of antioxidant polyphenols. Anti-inflammatory, stimulates, protects, smoothes. Soft, sensuous, calming fragrance.
1. Day and night after cleansing and toning, apply a few pumps of Green Tea Mattifying Moisturizer to fingertips and gently smooth over the face and neck.
2. Once or twice daily (depending on skin type and environmental conditions), precede application with Daily Revitalizing Concentrate.
3. Reapply Green Tea Mattifying Moisturizer as needed throughout the day.
Store below 75°F to preserve efficacy of the ingredients and maximize freshness.
Pomega5 products are made with only the purest bioactive organic ingredients, selected for their compatibility with skin and with each other. For superior results, we recommend refraining from the use of other facial preparations, treatments and creams, and maintaining a regular AM/PM Pomega5 regimen tailored to your skin needs.