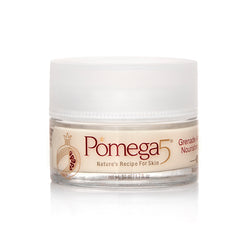 Grenade Anti Rides Nourishing Cream (50ml)
Pomega5's signature anti-aging cream, layered with rejuvenating pomegranate, raspberry and cranberry seed oils to repair and restore radiance to skin.
Skin Type: mature
Raspberry Seed Oil

Rich in Omegas oils and vitamin A. Antioxidant, anti-inflammatory and anti-carcinogenic. Provides UV protection, nourishes, prevents lesions, treats skin conditions.

Cranberry Seed Oil

Unique balance of Omegas 3, 6 and 9. Emollient, antioxidant, anti-inflammatory, provides UV protection, locks in moisture, relieves skin conditions, promotes cell regeneration.

Pomegranate Seed Oil

Cold-pressed from the seeds within the juice-filled arils. Rich in rare Omega 5 essential fatty acid. Potent antioxidant and anti-inflammatory, promotes cell renewal, stimulates collagen production, protects against sun damage, reduces redness, heals irritations.

Carrot Seed Oil

Rich in Omega 9 and vitamin A. Antioxidant, antiseptic, nourishes, maintains skin elasticity, protects, soothes, heals, stimulates and rejuvenates, reduces wrinkles, firms.

Rose Extract

Extracted from the petals of the Bulgarian Damask rose. Soothes, softens, tones, reduces inflammation and redness, regenerates, provides natural fragrance.
1. Day and night after cleansing and toning, apply Grenade Anti Rides Nourishing Cream to fingertips and gently smooth over the face and neck.
2. At night, precede application with Intensive Nightly Repair Serum.
3. Alternate use: applying Grenade Anti Rides Nourishing Cream at night only, substituting Bois de Rose as a lighter option for daytime use.
Store below 75°F to preserve efficacy of the ingredients and maximize freshness.
Pomega5 products are made with only the purest bioactive organic ingredients, selected for their compatibility with skin and with each other. For superior results, we recommend refraining from the use of other facial preparations, treatments and creams, and maintaining a regular AM/PM Pomega5 regimen tailored to your skin needs.